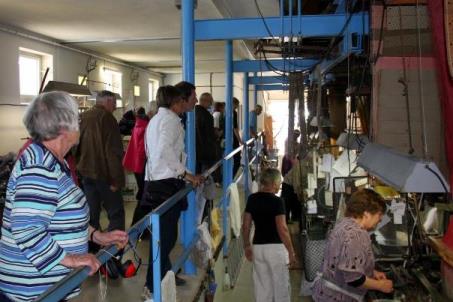 The museum is a working museum, where a number of voluntary people meet some mornings a week to weave, work in the sewing room, repair and maintain the looms, start up new activities etc.
Everything to make it possible to show a living and attractive museum to the public, but also to contribute to the history of this old handicraft, which was later industrialised, so that it can be preserved for the future.
During the opening hours the looms are not running because the old looms are very noisy, but all visitors are offered a guided tour where a jacquard power-loom is demonstrated.
The museum was established in the years 1993-1995 after Kurt Reindel, the owner of the closed Tommerup Weaving Mill, had donated the power-looms of the mill and their accessories.
Most of the looms are from the 1930s when his father Edmund Reindel started the weaving mill.
Exhibitions, café and shop have been established in the former cow house of Krengerup which used to hold 100 dairy cows. This building was constructed about 1860.
The working museum, the Weaving Hall, has been established in a new cow house that used to hold heifers.
The restoration and furnishing of the old cow-houses of Krengerup was made possible through a number of funds and donations.
The main sponsor is The Velux Fund of 1981, the County of Funen, and Glamsbjerg Commune.