The school service at the Flax Weaving Museum is a very good offer for students of craftsmen and design and class teachers.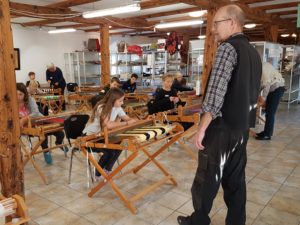 Here in the digital age we would like to show children our ancient weaving crafts. Therefore, we offer school classes one day with small table looms, where each child, under expert guidance, weaves a product they can bring home afterwards.
They make table runners, pillows, bags or hats, but also tried with rugs and weaving with plastic or paper. Crafts and design go hand in hand, and many exciting products arise on such a day. The Flax Weaving Museum, of course, also hopes that the efforts will promote the interest of this craft.