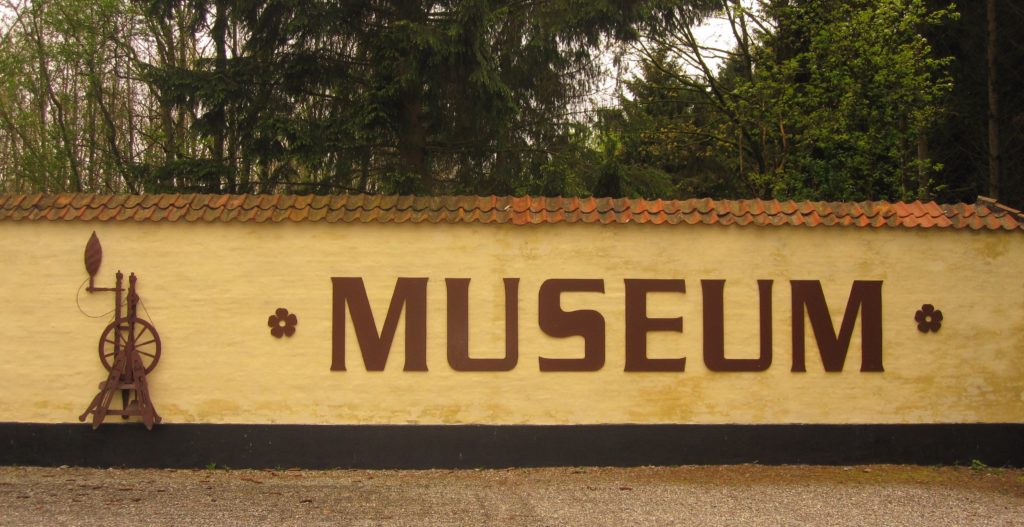 Adresse
Hørvævsmuseet
Nårupvej 30
5620 Glamsbjerg
Denmark
Phone: +45 64 72 28 85
Telephone hours weekdays at 9 – 12 am
and during opening hours
Opening hours
May: Weekends and public holidays from 13 to 17
June July August: Every day except Monday 13 to17. Monday closed
September: Weekends from 13 to 17
Week 42: All days from 13 to 17
Christmas sale, third weekend in November: Saturday and Sunday at. 10-16
From October 1st to April 30th the museum is closed except for groups with appointments (Tel. +45 6472 2825).
The shop is open every weekday at 9-12 and when the museum is open.
Entrance fees
The Flax Weaving Museum
Adults kr 60
Groups (min 10)  kr 50
Children under 13 years free
Joint ticket
Both the Flax Weaving Museum and the Skoda Museum: 95 kr (Groups 85 kr)
The museum café
The café can seat 50 pers. and offers coffee, tea, cocoa, cookies, various pies, toast, soda, juice and ice cream.
The Shop
The shop sells various products mostly in linen from 25 dkr.
The shop is open weekdays 9 -12 throughout the year – and when the museum is open.
Brochure
A brochure about the museum can be ordered sent or downloaded.
Coaches
Coaches should be aware of low viaducts in Årup 3.9 m and 3,7 m Tommerup St.
Krengerup Gods southern entrance only 2.8 m.
Driving Directions – GPS
Look at the map under Find us.
GPS N 55º 18′ 36", E 10º 06′ 57"

Handicap
We have ramps for wheelchairs around the museum and a toilet for the disabled.
Member / active
If you want to support the museum's work or be active in the operation of it, contact the museum.